Working with the delegates from 7 German Universities and the Head of Division Internationalization of Higher Education in Germany
In the morning of 9 December, Assoc.Prof. Vo Thanh Tung, Rector, University of Sciences, Hue University (HUSC) had a meeting with the representatives from 7 German Universities leading by Mr. Alexander AU, the Head of Division Internationalization of Higher Education in Germany.
Attending the meeting, there also were Dr. Nguyen Truong Tho, Head of Office for Science-Technology and International Relations; Assoc.Prof. Tran Xuan Binh, Dean of Sociology Faculty; Assoc.Prof. Hoang Quang, Dean of Information and Technology Faculty; Dr. Nguyen Ngoc Tung, Dean of Architecture Faculty; Dr. Huynh Anh Phuong, Dean of Social Work Faculty; Dr. Le Van Tuan, Vice-Dean of Environmental Science Faculty; Dr. Phan Hai Phong, Vice-Dean of Electronics and Telecommunications Faculty and other members.
On behalf of Rectorate Board, Assoc.Prof Vo Thanh Tung welcomed Mr. Alexander AU and other members to visit and have working with HUSC. He had a brief introduction about the HUSC's mission, functions, current educational and training programs, prior trends in research and oriented international cooperation. The Rector also confirmed that the meeting will be a good opportunity for both HUSC and DAAD as well as 7 German Universities to establish and develop the further and deeper cooperation in the near future.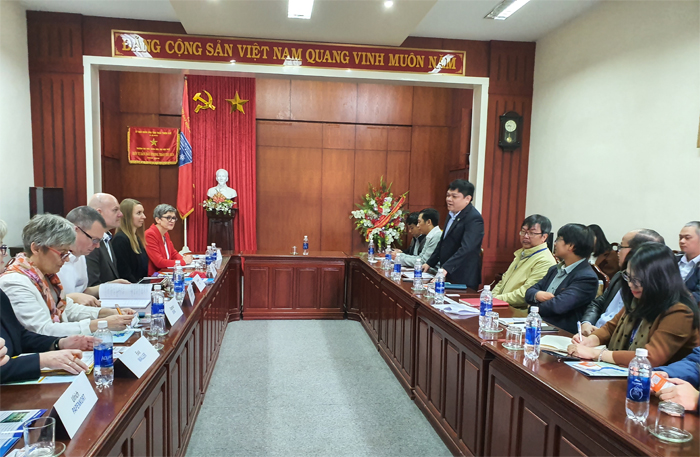 Assoc.Prof. Vo Thanh Tung had a welcome speech
Mr. Alexander AU expressed his sincere thank you for the warm welcome from HUSC's leaders and staff for him and the other delegates. In this occasion, he gave a small presentation on DAAD, scholarship programs from DAAD, students and staff exchange programs as well. In addition, representatives from 7 German universities also introduced about their university, including Bochum University of Applied Sciences; Brandenburgische Technische UniversitätCottbus; Esslingen University of Applied Sciences; Jade University of Applied Sciences; University of Applied Sciences Lübeck; Katholische Hochschule Mainz and University of Applied Sciences Würzburg-Schweinfurt.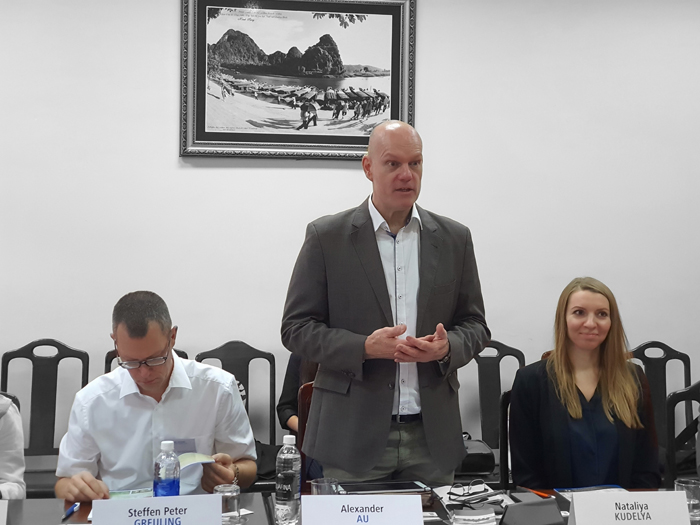 Mr. Alexander AU at the meeting
After the meeting with HUSC Rector, 7 experts from Germany directly worked with different faculties to seek the ideas and research potential for future collaboration.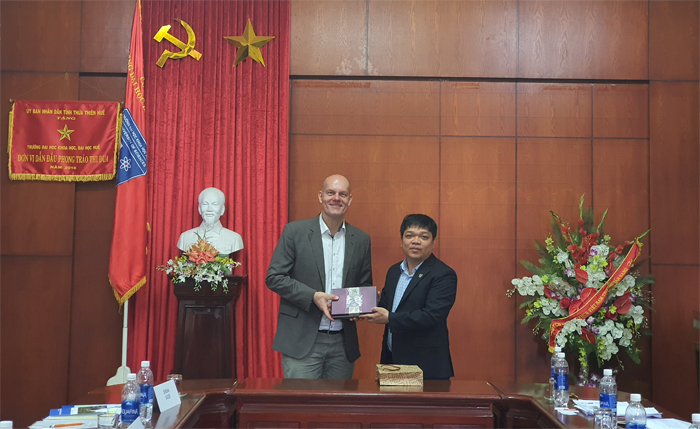 User: Trần Thị Thạch Hà